An effective ad copy will attract thousands of visitors to a single Craigslist ad.  However, most people do not know how to write an ad copy and only a few people will end of seeing their used car ad.
Selling Your Car on Craigslist with Ultimate Title
The problem that most people have is that their ad does not differentiate from other people's ads.  Tell me how many ads do you see that look like this: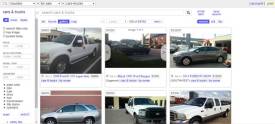 Title: Used Toyota Corolla for Sale
Ad Copy:  I have a used Toyota Corolla for sale. Low mileage, runs like new! Send me e-mail if you're interested.
To me, this ad copy is pretty lazy and will not get that many leads.
The first thing you'll need to do is write an effective title.  The title is the first thing that viewers when scrolling through ads.
By the way, here's another point.  There are two ways to search for ads on Craigslist cars. The first way is to just randomly scroll through daily listings and the second way is to search for cars by keyword.  The majority of people will search for cars by keyword and not just randomly scroll through ads.
The title should be your attracting point to your visitor.  Try and get as much information as possible in the title.  Make your title stand out by attracting the customers interested.  Many people use funny titles that viewers will want to click on.
For example:
Warning: Viewers who saw this ad for this 2003 Infiniti G35 took their wallet out and threw it at the computer screen.
Want to know why my Infiniti G35 is one of it's kind in Washington State?
As you see, the ad is funny and peaks the viewers curiosity.
When writing your ad title, try and think of ways to differentiate your ad so that people will want to click on your ad to find out more about what your car has to offer.
Adding Symbols to Your Title
This is kind of a cheat in ways and should not be manipulated and over-used.  There's a website at that has a legend of the hundreds of symbols you can use in your title.  Only use a couple as adding too many will get your account "ghosted".  Ghosted means that your ad is within the Craigslist system, but will not show up in the listings.
You can find the symbol legend here: http://craigslistadtracker.com/fancy-ad-titles.aspx
As an avid Craigslist viewer, the majority of ads my eyes are attracted to are the ones with symbols.
The next time you want to sell your car and make a larger profit remember the two tips listed above:
Make your copy attractive and peak the viewers interest
Add symbols to your car listing to attract the viewers eyes to your title
Next Post: How to Write the Ultimate Ad Copy on Craigslist to Get Multiple Offers on Your Car.