Hi, Craig here, just browsing Craigslist and looking for a car to buy under $1000.  I'm going to sell my Infiniti G35 soon and realized that cars are so overrated and that now I'm ready to settle for a vehicle that just runs and doesn't give me that many problems.  I've turned to Craigslist and like to browse the listings to see how many cars under 1000 dollars I can find.  One of the reasons why I want to buy a car around this price range is because I'm pretty broke right now and also I'm searching for my personal "unicorn".
When I was in grade school, my mom purchased me my first car — a 1994 Toyota Tercel.  It was a manual transmission, two door, and the paint was fading.  I drove that car from coast-to-coast and through some of the scariest snow storms ever.  At the time, I loathed the car because it was cheap and all of my other friends were driving new Honda Civics and Nissan Altimas.
Now that I look back, that car freaking rocked because it was super cheap to buy ($1200), it was low maintenance, and it was good in bad weather because of the tiny-ass bike wheel tires.
I digress, so now I'm searching cars on Craigslist for a used car for under 1000 dollars. This is what I found as of today.  Here are 3 running cars that are around the 1000 dollars mark.
Good Used Cars Under 1000 Dollars
This is a listing for a 1998 Buick Century.  As you can see, it has some cosmetic damage, but the owner says that the car runs well and he's only giving it up because he just bought a new vehicle.  There's some things that need to be fixed on the car such as the tail light and some fuses that need to be replaced, however, besides some minor things that need to be fixed, the car runs really smooth.
Honestly, for 1 grand, I can get a car that gets me from point  A to point B is not a bad deal at all.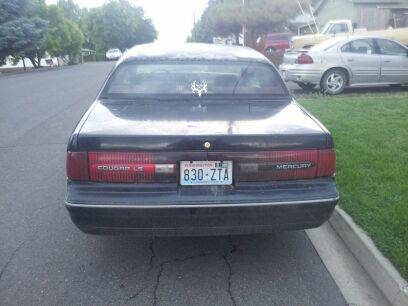 This is a 1991 Mercury Cougar.  The owner says that the car doesn't have any motor problems and the only problems are that the motor doesn't work in the drivers side window. Also, the side-view mirror is broken off.  The car is selling for $1200, which is near the $1000 benchmark.  Actually the mileage is quite low and has about 190,000 on the odometer.
Again, if you just need a car that can drive to the grocery store and go from point A to point B, then this actually isn't a bad deal.  I could buy this car with cash in hand today if I wanted to.
And I save the best for last…
I found a 1993 Toyota Tercel… and it looks nearly identical to the one I had in grade school.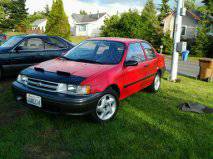 The car runs great, has no cosmetic damage, and only has 170,000. If I still lived in Washington, then this car would be the winner.  The car goes for $1350, but I bet I could haggle him down to $1100.  Damn, I really want this car!  Forget about Porsches and BMW…this is the real stuff right here!
I will once in a while browse listings and check for cars under 1000.  If you liked this post, please like and share with your friends.
Related Post: Best Used Cars Under 5000 Best Used Cars Under 3000